This article originally appeared on Cinema Scholars
Following the recent death of William Hurt, Cinema Scholars presents a retro review of Kiss of the Spider Woman.  Here's a look back at the film and production of the actor's Oscar-winning role.
Two men are paired in a harsh Brazilian prison cell. Valentin Arregui (Raul Julia) is a political prisoner. Luis Molina (Hurt), is an effeminate gay man. Sequestered from the rest of the population and bored with the monotony of imprisonment, Molina recalls his favorite film – a wartime romantic thriller that was also a Nazi propaganda film.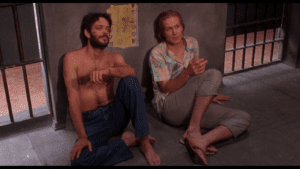 Valentin frequently lashes out at Molina for his idealistic views on romance and shallow views of film-watching. Despite that, Valentin encourages Luis to open up to political commitment and to have self-respect. Molina opens up about a friend who was an unrequited lover. Despite their differences, a mutual friendship blossoms.
All the while, the film shows the lead actress of the Nazi film (Sônia Braga) to be melded with Valentin's lover Marta and the mysterious Spider Woman from another of Molina's films.
The main communication between the two men is a form of escapism. There is never any assurance that Molina's recollection of the film is accurate or genuine. The validity of the film doesn't matter. Molina recognizes Valentin's despair and uses the film to allow him to avoid that despair; even if just for a little while. As Molina recalls the film, Valentin is able to recognize the inherent poetry in Molina's voice.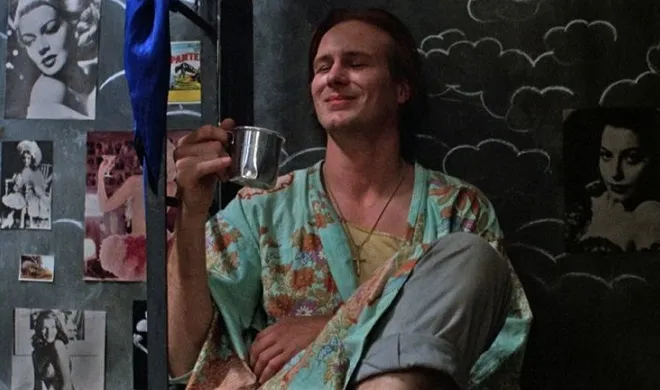 More than anything, this is a film about male tenderness.  Molina is a gentle man, regardless of his ulterior motives.  Valentin is more abrasive in prison, but is shown as equally pensive outside of the prison walls.  With increased familiarity and understanding, that emotional tenderness eventually translates to physical tenderness as well.  
Based on the 1976 novel by Manuel Puig, a number of directors were considered to adapt, including Rainer Werner Fassbinder. The Brazil-native Héctor Babenco took over as director with Burt Lancaster set for Molina and Richard Gere as Valentin. The director worried about the casting of two white men as Brazilians, but was undeterred by any misgivings, including from Puig.
Babenco met with independent financers to fund the film. Leonard Schrader (brother of Paul Schrader) wrote the script. The filmmaker continued to worry about white lead actors, but was relieved by the casting of Julia. Lancaster was enthusiastic about the film until a rumor about the actor's penchant for cross-dressing began to circulate. Lancaster eventually dropped out and Hurt took the role.
Hurt and Julia agreed to work for the SAG minimum to help with production costs. Despite Babenco's limited English, Hurt took most of his direction from the assistant director Maria Borba. During rehearsals, Hurt and Julia had trouble finding the chemistry of the characters. Hurt suggested an experiment where the actors switched roles. The experiment went so well, Hurt suggested an actual switching for production. Despite the roles remaining, the experiment became vital in understanding the characters.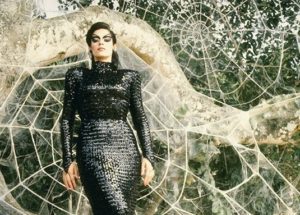 Meanwhile, Braga didn't speak English and had to learn and recite her lines phonetically. Borba also had to be the bridge between Braga and Hurt. Since Braga never went to the prison to watch Hurt as Molina, Borba would observe all his gestures and movements and bring them back to Braga to replicate in her scenes.
The filming in São Paulo, Brazil was dangerous.  According to Hurt, the actor and a female companion were accosted at gunpoint on the streets.  Assuming he was going to be killed, Hurt started a screaming match, which ended up with the assailants leaving.  Knowing the production to be tenuous, Hurt never reported the incident to the production company.
Hurt's Oscar-winning portrayal of Molina made history. For first time, an actor won an Oscar for playing an out gay person. His performance is delicate and buoyed with humanity. Despite playing an outwardly effeminate man, Hurt resists reducing Luis down to simple quirks and eccentricities. He is a man who desperately wants his freedom and is willing to do what is necessary to achieve it. His relationship with Valentin doesn't rob him of his agency, but enhances how he approaches his life thereafter.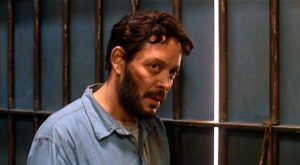 Despite Hurt's numerous accolades, Julia is the best performance. He is a man of fury and righteousness, but he doesn't come to it naturally. His radicalization allows him to be a tragic figure instead of a victim. While rejecting what Molina stands for, he doesn't reject the fantasy. While Hurt has the more flashy role, without the balance that Julia finds, the film couldn't have landed with the same impact.
Braga gets to be the enigma of the story.  Whether she is the mysteriously conniving Leni from the Nazi film, or the measured but steady Marta from reality, or the mysterious Spider Woman, she has a firm grasp on each role.  Even without the drastic differences in her outward appearance, Braga differentiates each clearly through her vibrant eyes.
Poignant and well-acted, Kiss of the Spider Woman shows a story of finding meaning in life outside of your capabilities. Featuring one of the most gentle of male love stories, the film stands as a moving tribute to the lost talents of Babenco, Hurt, and Julia.